"There is a huge interest in the Economic Forum."
10 questions asked to Mr. Eduard Buraš, director of company FEMAN
10 questions asked to Mr. Eduard Buraš, director of company FEMAN
1. A few days ago, you cancelled the European Days in Košice 2009. Months of work are lost. Isn't it a pity?
Every work we do at the company is meaningful and I believe it wasn't waste of time / money. During the project preparation, we have learnt much. A few project components will be used in August during the 10th annual Festival FEMAN. Thus no, I am not sorry just worried about the situation of the culture in Košice.
2. Do you mean the economic crisis?
Yes, however, sometimes I have an impression that everybody blames the economic crisis for everything. It is clear that the culture suffers most in such times. Neither the higher territorial whole (VUC) nor the city can invest in the culture.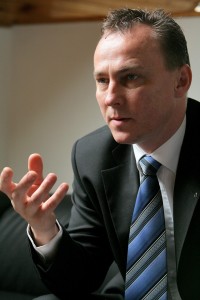 3. You are a leader of the Economic Crisis Committee in Košice that you had also proposed. Will you not profit from this position at organization of cultural events?
(laugh) Do you think I would succeed? Let's talk seriously. I did a contradictory step. We had approx. EUR 6600,- approved in the Budget for purpose of the Romany Festival and I refused it. Every saved Euro in the Budget counts. In the past, the city supported a few our projects and now it would be fair to return what was borrowed. I believe that what has been done at FEMAN would represent just the first case of saving not only words but also activities.
4. What are you talking about in particular?
It's rather an example and I hope it will be followed by other colleagues - deputies, mayors or organizers of other projects. Talking about savings, we all have to save everywhere. Many will suffer from it but we cannot save only in culture, reserves can be found also in other sectors.
5. Let's change the topics. Which FEMAN' s projects will be implemented during this year and what would you fund them from?
Fortunately, we have a few approved projects. We have a good financial position in a few of them with regard to private companies and I think we will also receive support from 2% tax share.
6. Be specific please.
In August, we will organize the 10th annual festival FEMAN called "The best of FEMAN". In June, we would like to organize the Economic Forum in Košice. We plan to organize many seminaries as well as one big project called Via Regia in cooperation with Ukraine that was approved at the beginning of this year. Moreover, we used to attend international meetings in the Brussels for a few times in a year. Another project refers to the charity. Till the end of year, we will provide for a few "camions of aid", help hospitals and social care facilities.
7. It's really enough. How can you manage for everything?
I live a healthy life, make sports, have many good friends and a strong family around me.
8. What kind of sport do you make?
I run. I run to meetings, around my family, with my dog. This year, I would like to participate on the Half-Marathon in Košice – we will see.
9. How does your family manage it all?
I used to say that they are a part of FEMAN. It's true that sometimes I don't have enough time to spend with them, but later I try to compensate it with traveling around Europe. We all like to travel very much and spend much time in the European House Spišská Kapitula, that is really wonderful. Can you imagine such feeling – having a good Bavarian beer, goulash and looking at the Spiš's castle?
10. You have a new logo, a new slogan, a new website. What is your goal?
First of all, we want to go with the times. Our website is visited by tens of persons worldwide day by day. It's not enough to design a website at home; we want to be more professional. I believe that people will enjoy our news and we will join what cannot been joined visually. It's all about these times, isn't it?
29.6.2009